Synergy 2022
AIGA at UWM hosts an annual fundraising event known as "Synergy" that features a variety of student work across the Peck School of the Arts.  Since the start of the pandemic, Synergy has been on hiatus.  As President of AIGA at UWM, I was tasked with reintrducing the student body to this fantasic event through a new identity, organization, and general planning.
Synergy 2022 was the first in-person event held by AIGA at UWM since the start of the pandemic, and we wanted to make it clear that AIGA is going to be at the front of the pandemic's tidal wave, not behind.  The pandemic forced many to leverage many new technologies made possible by technology and graphic design to keep the world moving forward.  Our theme, "Design Connects Us" highlights this societal shift that relies heavily upon our industry.
Event Branding
In previous years, Synergy was a formal interdisciplinary artwork showcase.  Music students would play and dance, and theatre students would perform, art students would sell and showcase work, and more.  With the many moving parts involved, operating an event of this scale amidst an easing pandemic was not an easy feat.  To signify the shift in focus, I evolved the identity to emphasize a fun return to in person activities centered around discovery.  The use of vibrant colors coupled with an octagon served as the root for this evolution.  Here are some milestones from that evolution: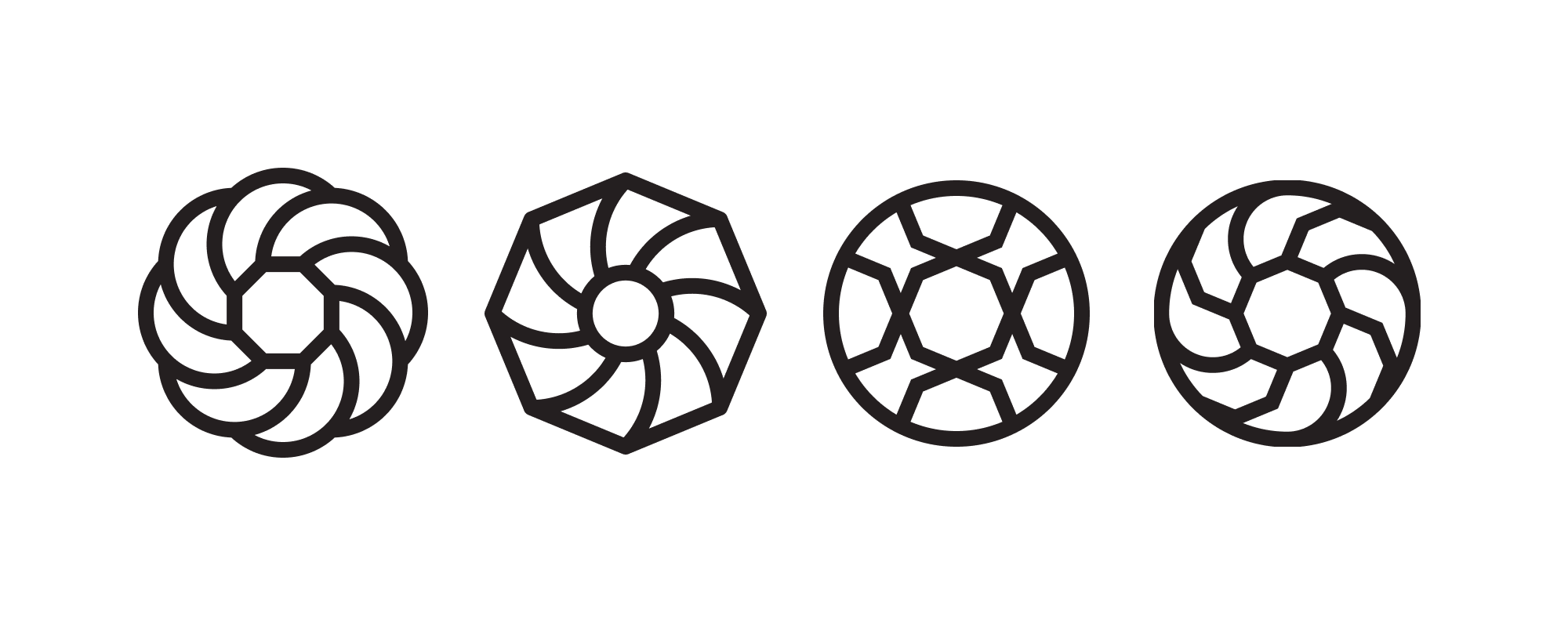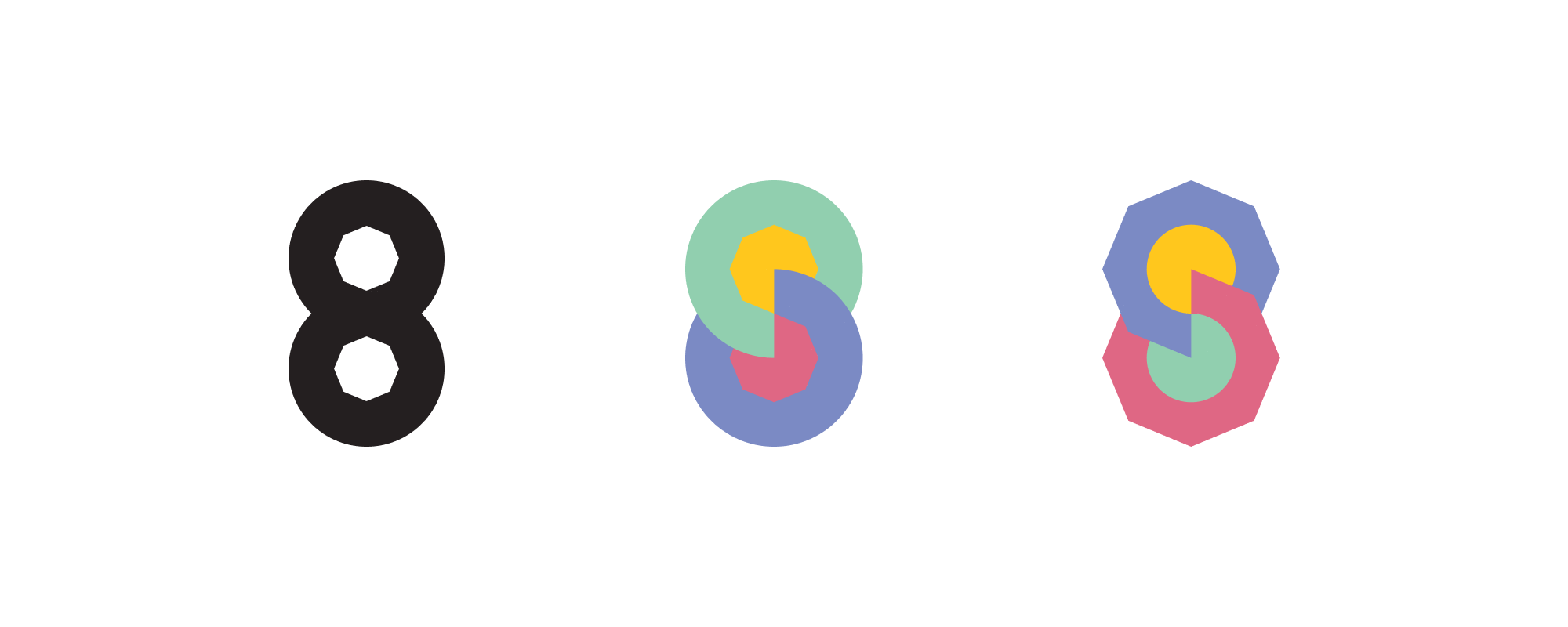 Type is set in a combination of Space Grotesk and Space Mono, with subtle flair to tie into the now completed Synergy S mark.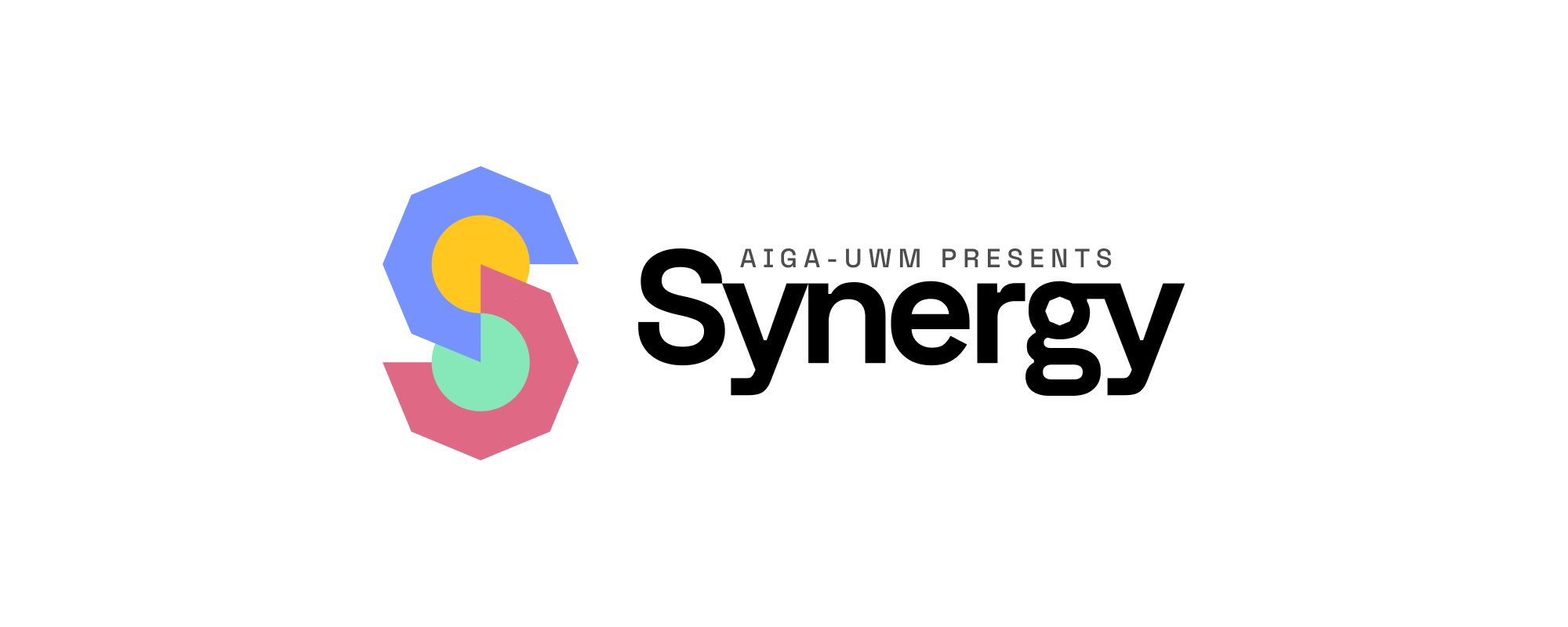 Posters
At first, I was inspired by a variety of typographical posters - as I found them clear and evocative when a selective color was used.  However, after consulting with a senior professor, they advised a consideration to push for a direction towards vibrancy and modularity.  See the progression below: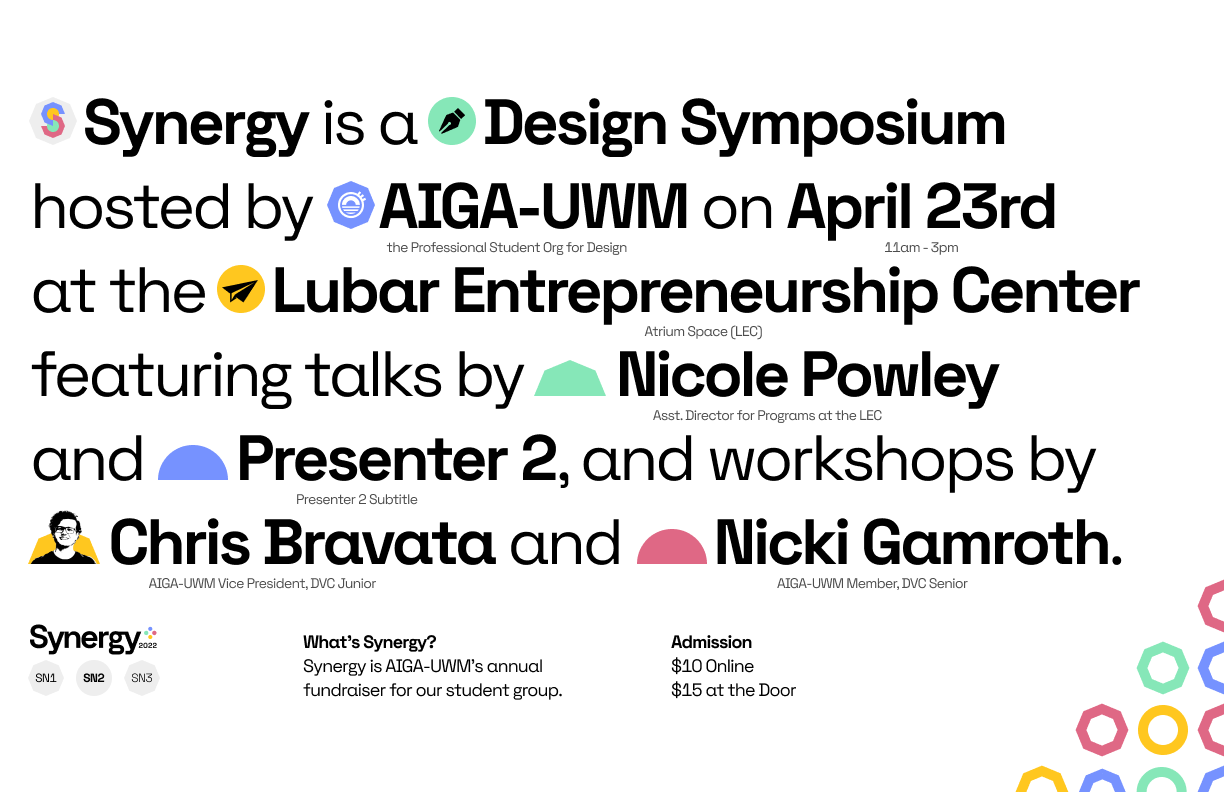 This led to the first round of posters: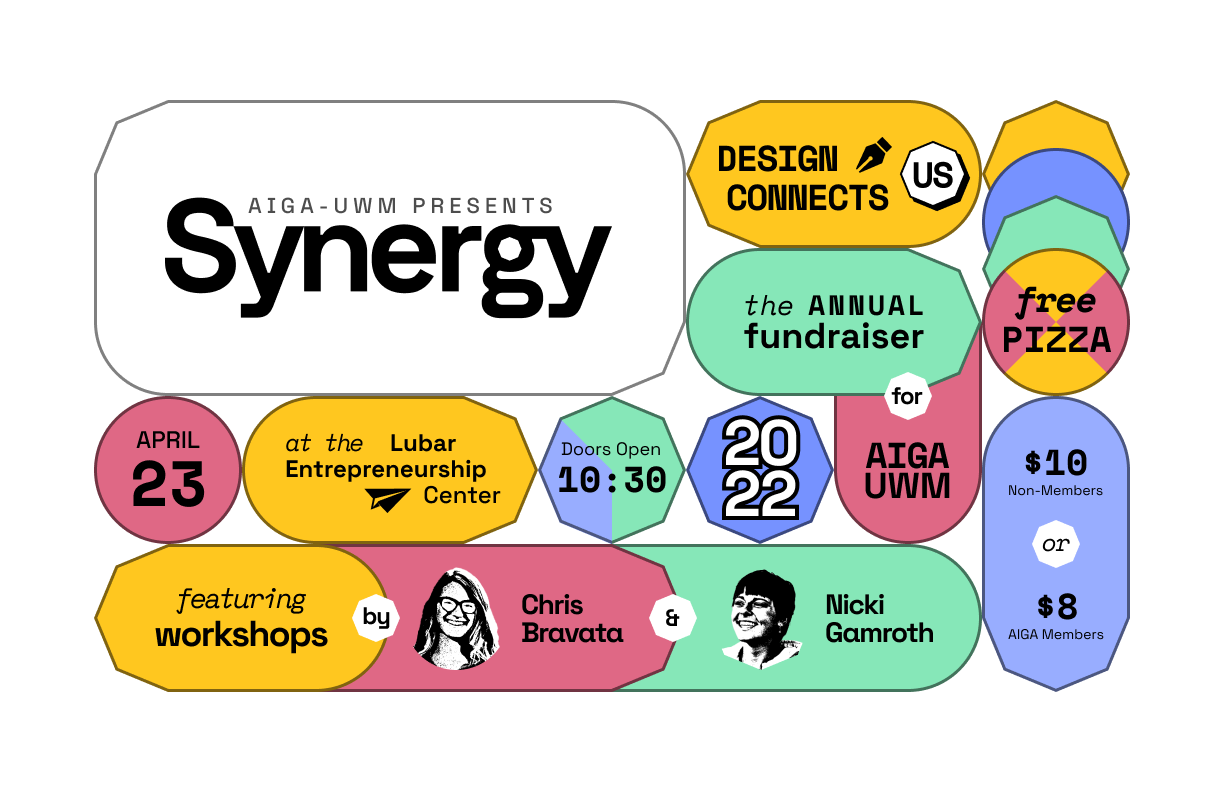 In an effort to conserve on paper, I also designed a split layout that would span entry doors and elevator interiors.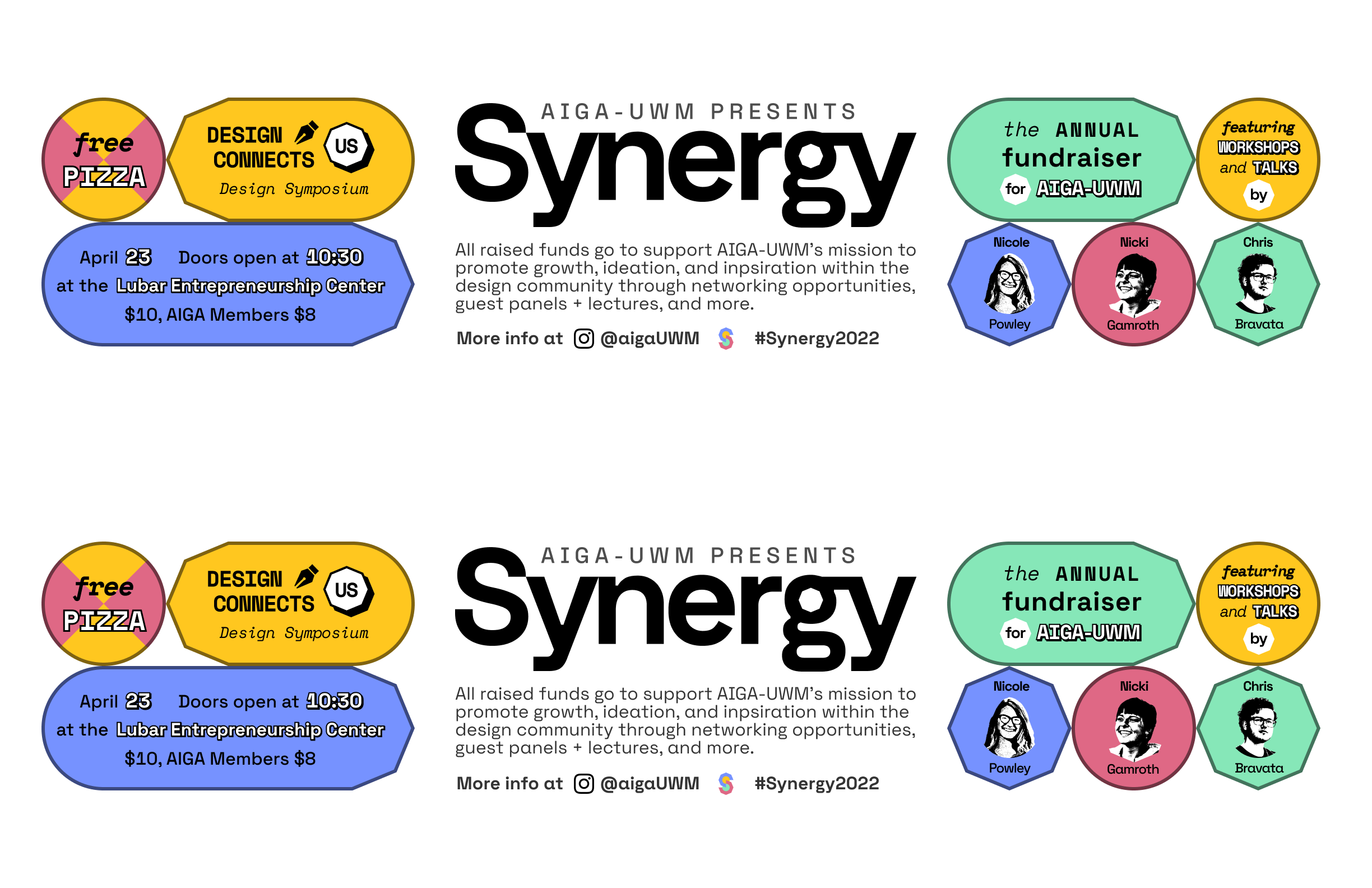 I designed the following callout posters to highlight our headline speaker, Milwaukee Bucks Lead Designer Kris Martinez.  With it being a callout rather than integrated into the main poster design, this created additional visibility as it 'broke out' of the traditional poster norms.  This proved successful with the event nearly doubling in attendance for Kris Martinez's talk.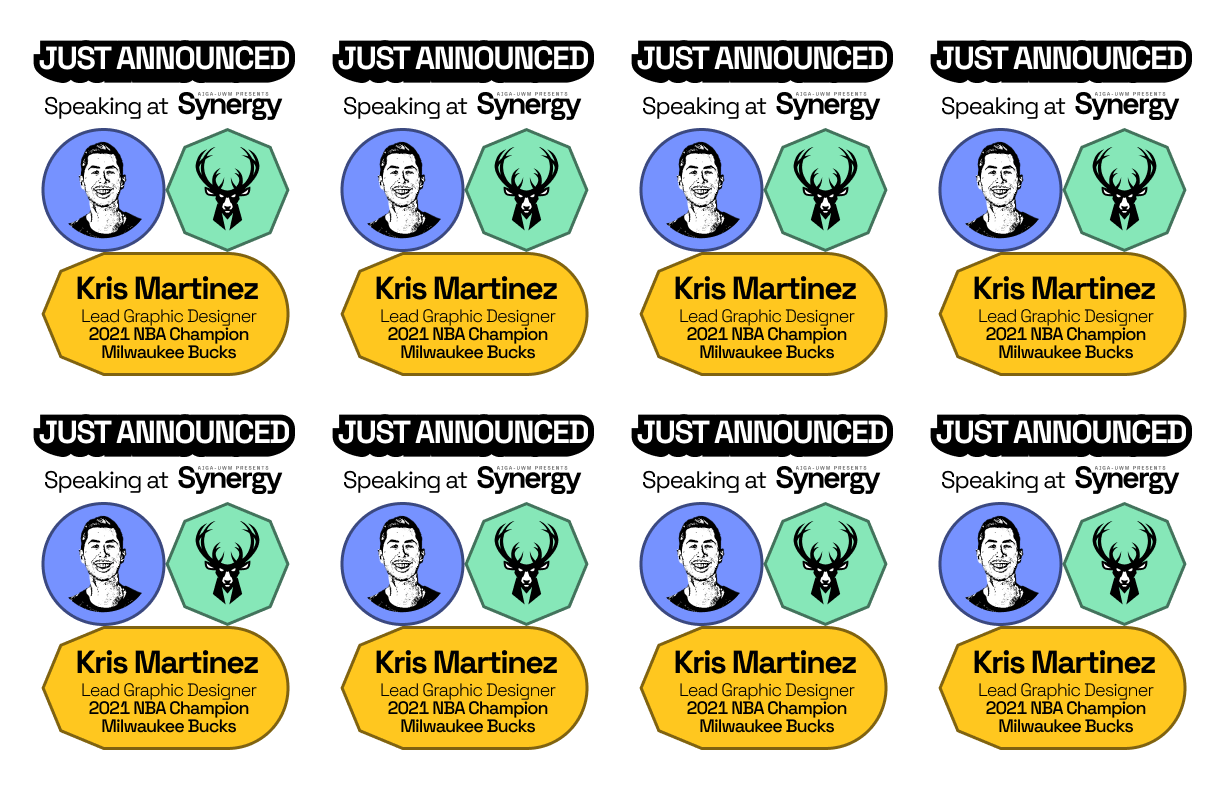 Social Media
The primary form of communication utilized by AIGA at UWM that semester was via Instagram; leveraging Stories and Posts to spread the social word.  For Synergy, we conveyed event details through Posts, and shared the event through photographs and video on Stories.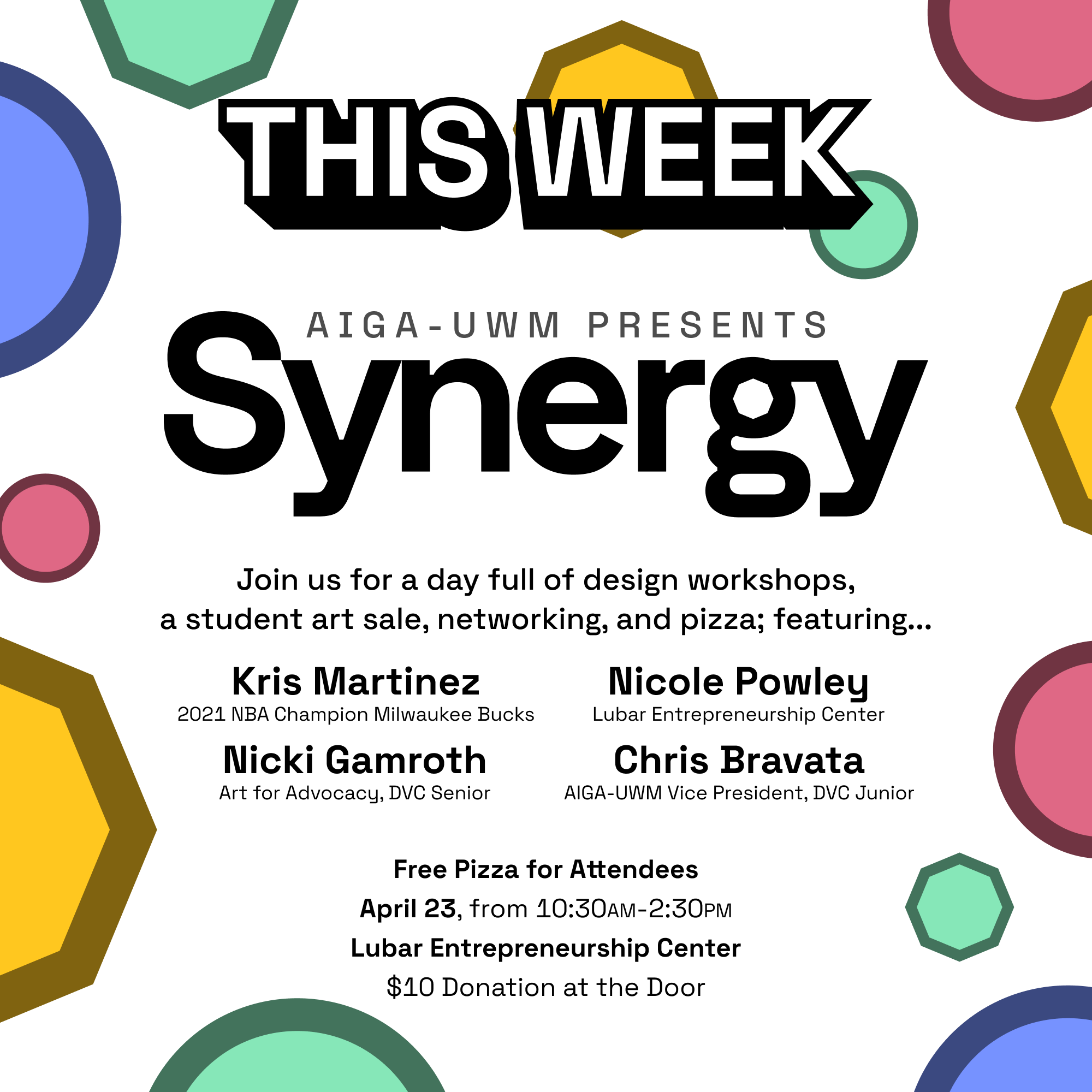 Meet the Presenters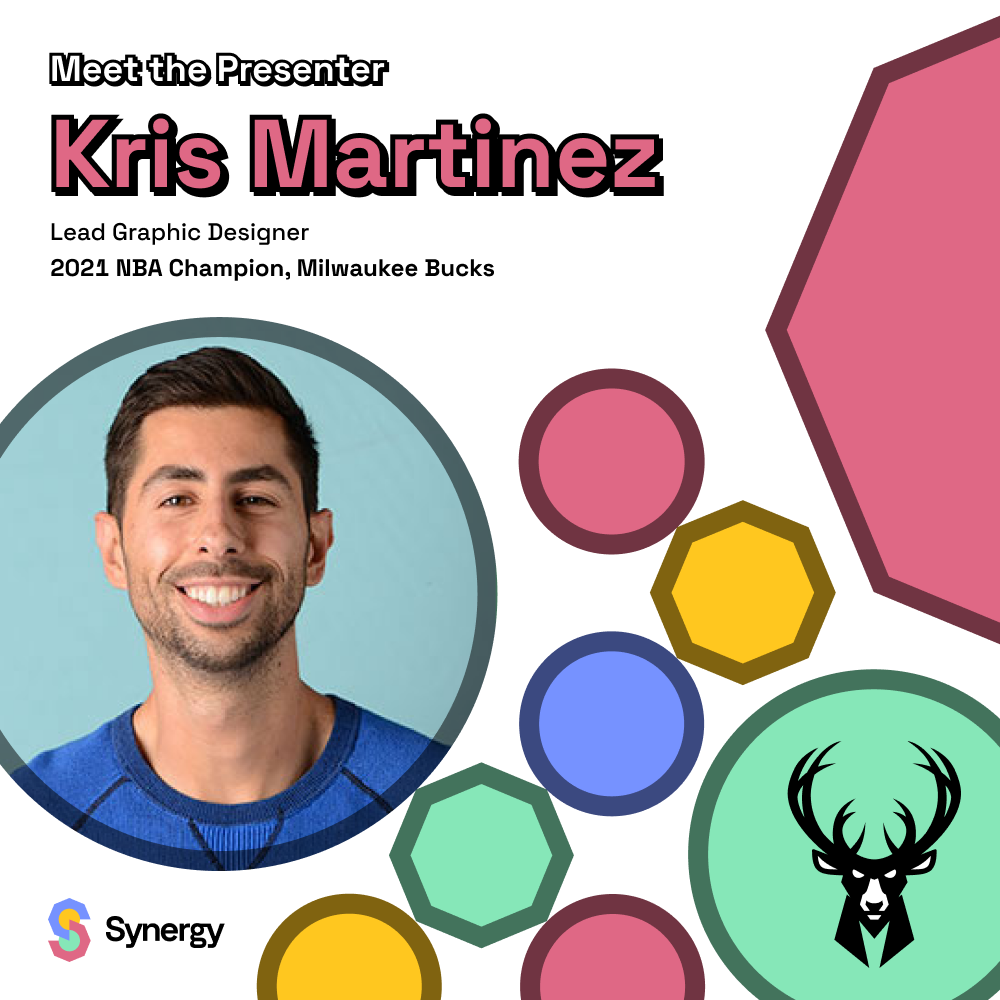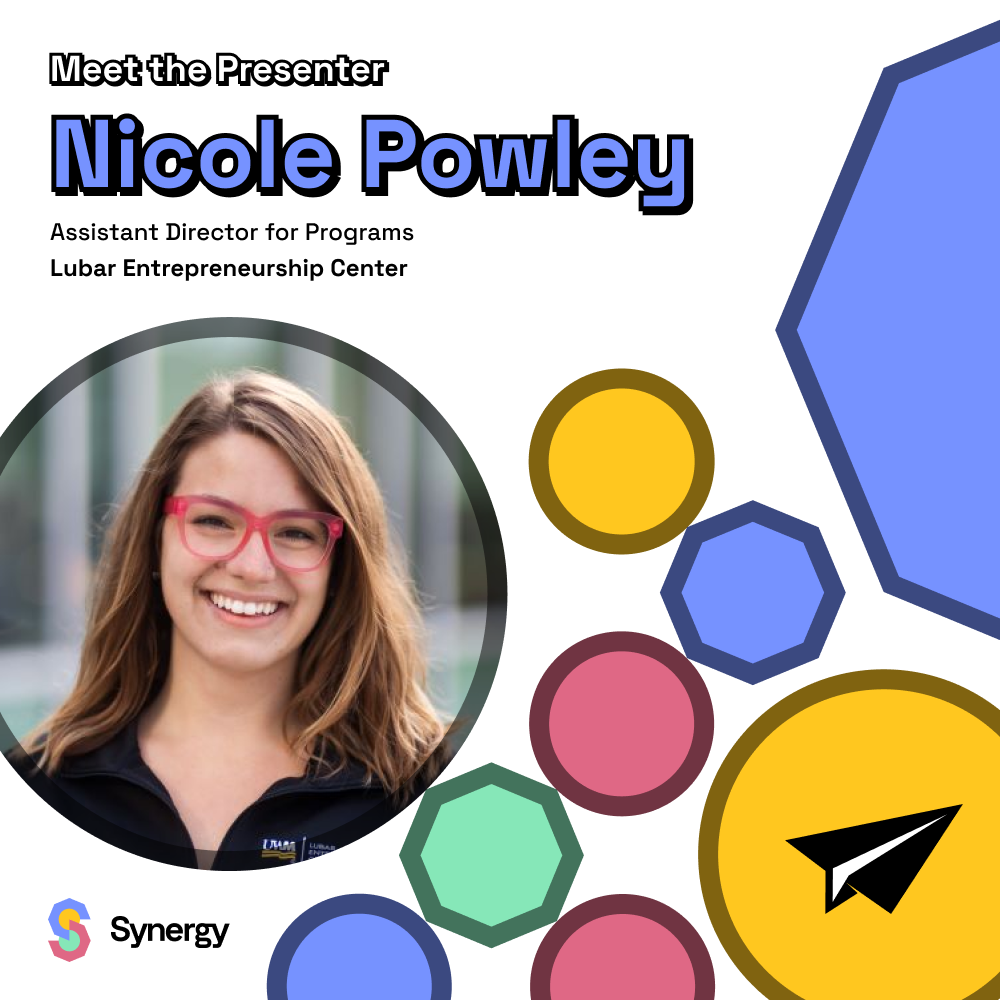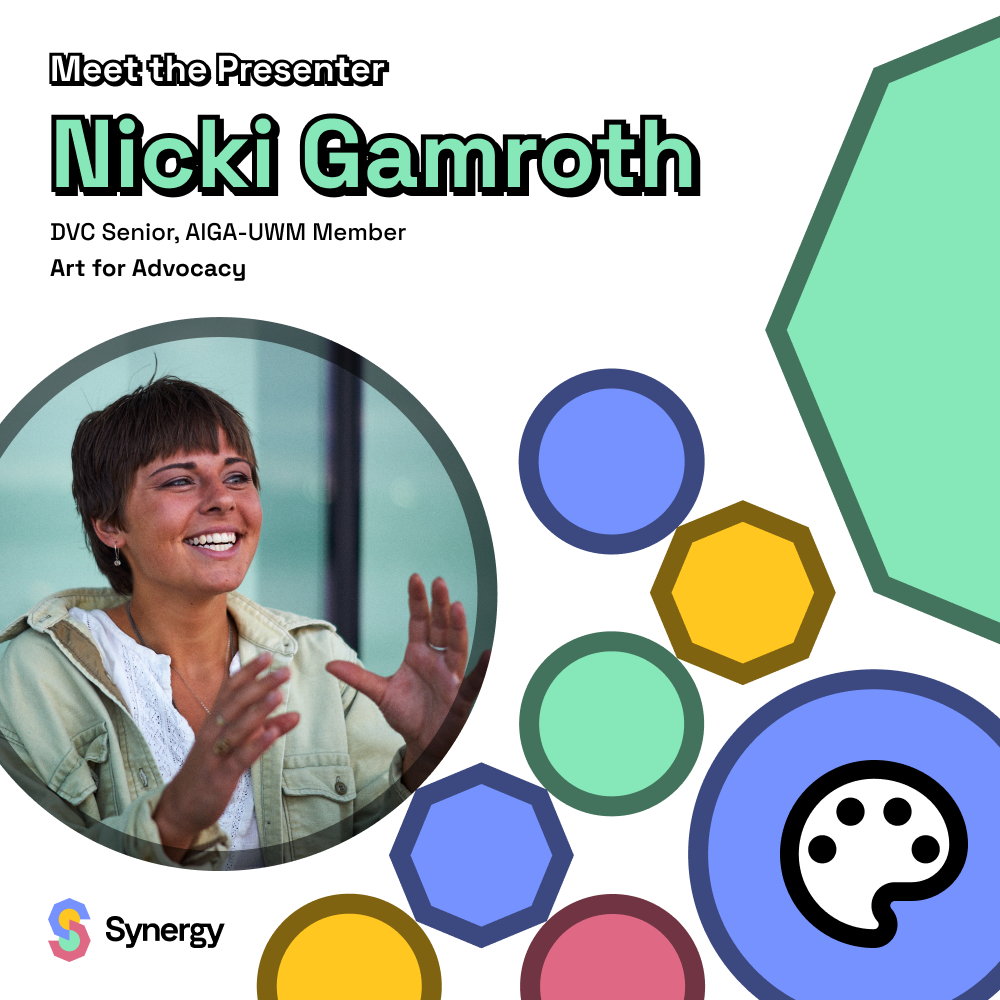 Today's the Day!
Event Program
Lastly, a brief program was made that encapsulated the schedule and map of the event space.  This was made available digitally to guests via QR code and link.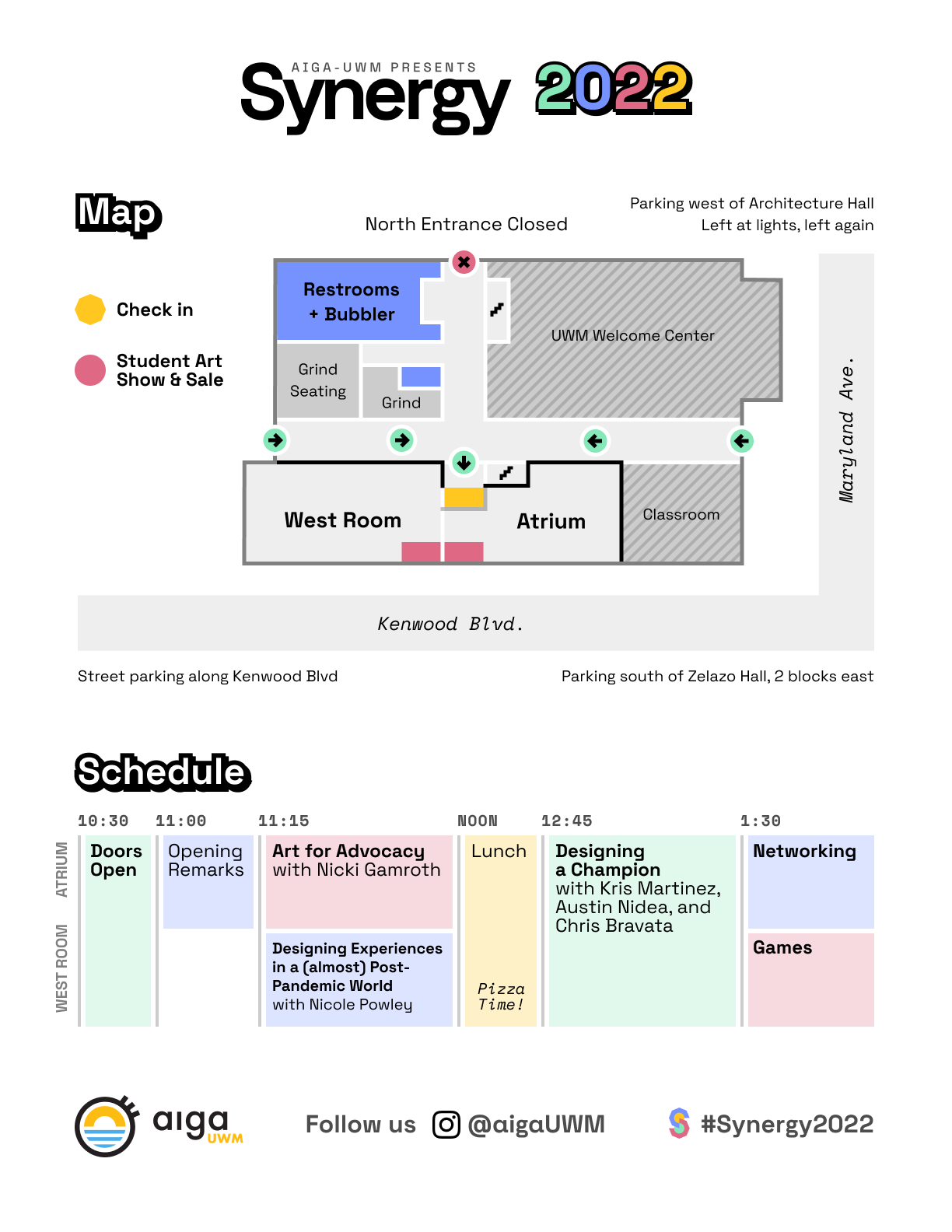 Photos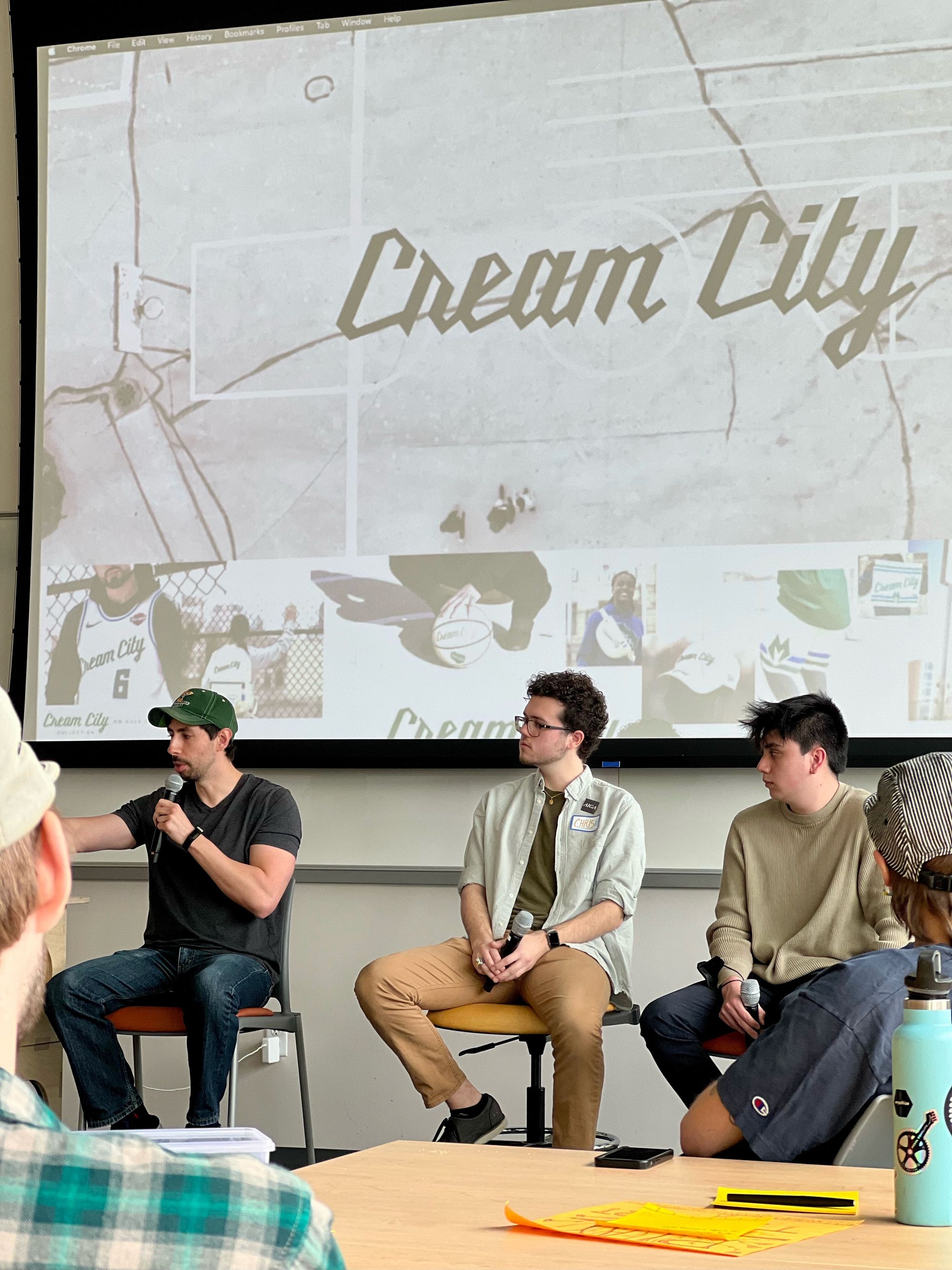 Thanks to everyone who made Synergy 2022 a great success!